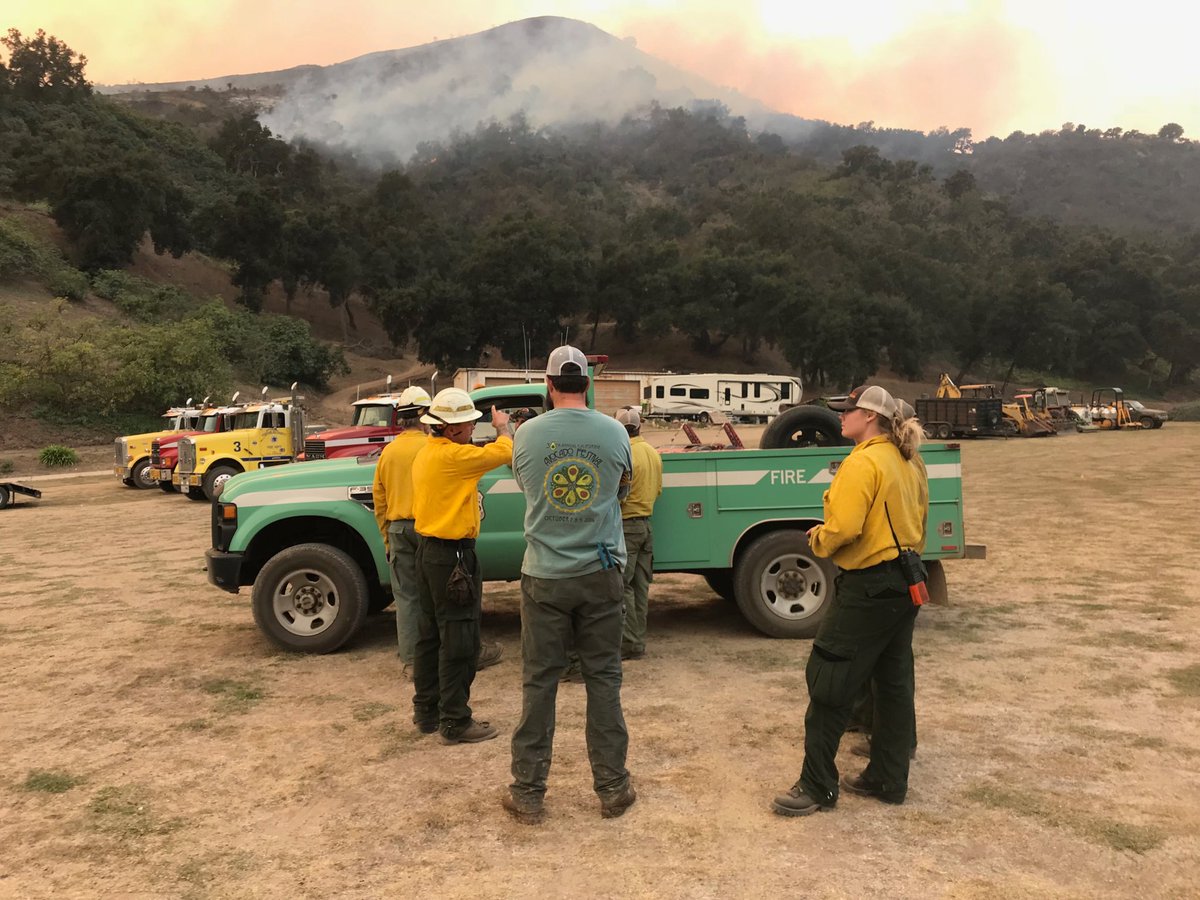 CARPINTERIA, Calif. — Fire continued to tear across Southern California on Thursday, surrounding communities and shrouding much of the region in searing flame and thick, choking smoke.
And where there was no fire, there was fear.
Fear of what could come next as wildfires ravaged the state for a fourth day. Fear of what could happen if the winds shifted, if the flames moved, if new blazes erupted and were strengthened by the powerful gusts already fueling the infernos burning across the region.
Tens of thousands of people fled their homes, running from fires without any idea of when they could return or what they might find when they do. They grabbed pets, clothes and mementos before hurrying off in search of shelter.
Veteran firefighters described the blazes as unlike anything they had ever encountered. Thousands of firefighters and other first responders fanned out to save lives, protect homes and shepherd people to safety, joined by reinforcements that flocked in from other parts of the country.
Authorities had not reported any deaths due to the blazes by Thursday, but they spoke bluntly about the danger that remained through week's end. While the most severe winds are forecast to slacken Friday and Saturday, lessening the fire danger some, the National Weather Service cautions the risk of fires will remain elevated through Sunday as conditions remain abnormally dry and breezy.
"We are a long way from being out of this weather event," Ken Pimlott, director of Cal Fire, said at a briefing Thursday. "In some cases, the worst could be yet to come in terms of the wind."
The National Weather Service warned that if new fires do begin, "very rapid spread and extreme fire behavior is likely." Blazes began Thursday across Southern California, including one in San Diego County, where the Lilac Fire grew to 1,000 acres in just a few hours and prompted mandatory evacuations. Officials warned it was growing dangerously fast and said it threatened 1,000 structures and had damaged some others.
The massive Thomas Fire, the state's biggest active blaze, burned across 150 square miles in Ventura County on Thursday. The blaze "continues to burn actively with extreme rates of spread," authorities warned.
Flames from that fire surrounded Ojai, the popular winter retreat that is home to about 8,000 people, on Thursday morning, officials said. Most of the Ojai Valley had been placed under a mandatory evacuation order.
More than 100 firetrucks from several states had parked at the Ventura County Fairgrounds, firefighters standing or sitting aside their equipment as they took breaks from battling fires in nearby Ojai the night before, winds whipping in off the ocean as they rested.
"This breeze is nothing," said Shane Nollsch, who had traveled from Lyon County, Nev., arriving at 3 a.m. Wednesday. "Yesterday, you had to chew the air before you breathed it."
Chris Mason, a firefighter from Carson City, Nev., said those who came to help had to adjust to different terrain and a new environment. Different winds. Different fuels.
"It's a sharp learning curve," Mason said. "Fire is coming down the mountain at you, especially at night, when it's hard to see and you don't know where the streets are."
La Conchita, a tiny town hard against coastal Highway 101 northwest of Ventura, was threatened by flames early Thursday. The town most commonly faces danger from mudslides, but those same cliffs that give way with rain are now a rich "fuel bed" for the wildfires. Fire crews managed to keep the blaze from the town's edge, but new lines, fanned by off-shore winds, remained a peril.
That blaze — the Thomas Fire — extended dozens of miles from near Santa Paula in Ventura County to the edge of Carpinteria, a city of 13,000 people, a stiffening wind posing the most threat. Gusts picked up flames low on coastal mountain slopes and drove them up and over hills toward several towns along the Pacific Ocean.
Santa Barbara County began urging evacuations, ordering hundreds of people to leave areas along the Pacific Ocean between the larger cities of Santa Barbara and Ventura.
Along Rincon Mountain Road a few miles south of Carpinteria, fire crews fought several lines of flames overnight Wednesday and throughout Thursday, focused on protecting homes and ranches. A dozen Ventura County fire engines staged along the road near midday, the fire burning in the avocado and citrus orchards along the ridge-line above.
Tall stands of eucalyptus shook with the strengthening wind, which was driving the flames toward several multimillion-dollar homes, a brewery and a small vineyard. Two helicopters buzzed overhead, tailing "bambi buckets" beneath. The buckets open from the bottom, scooping up loads of water from the Pacific and Lake Casitas to drop near threatened homes and buildings. In all, about 30 homes were in immediate danger.
Fred Burris, a Ventura County Fire Department battalion chief, was finishing a 24-hour shift that included helping to protect La Conchita. Only one outbuilding was lost early Thursday, he said, but new fire lines were popping up along a 15-mile stretch of Highway 150 between Ojai and Carpinteria.
"We're basically defending an area with homes and ranch infrastructure, seeing a new fire emerge along this stretch, then splitting off resources to send there – that's the strategy," said Burris, a 36-year veteran of the department. "Everyone says, 'Yeah, this is the worst,' but it really is the high-water mark for me. We've never seen a fire with this much speed and range."
The California National Guard said it had mobilized more than 1,300 personnel to help confront the wildfires.
In Los Angeles County, firefighters responded to threats on multiple fronts. The Rye and Creek fires continued burning through a combined 29 square miles north of Los Angeles, while the Skirball Fire's smaller reach forced evacuations in ritzy Bel Air and caused the University of California Los Angeles to cancel classes on Thursday, just two days before final exams.
Los Angeles Mayor Eric Garcetti (D) said the "erratic and unpredictable" wind gusts will continue through Saturday, warning that the winds could whip through with speeds as high as 70 mph.
"These conditions, combined with the heat that is now … coming to the area, the dryness, the amount of vegetation in some of the areas still that have not burned, makes this still a very threatening environment," he said.
In the Sunland area of Los Angeles near the Creek Fire, Ken Villegas, a horse farm owner, said earlier in the week he saw the flames jump from across the street and enter his property, burning some of his foliage but no structures.
"It was crazy," the 56-year-old said with a laugh. "The wind was blowing so hard it would've knocked you over."
Warning of "extreme" fire behavior, authorities said those fighting the Creek Fire were facing multiple difficulties because of the winds, poor access to the fire, and steep, rugged terrain.
To the southwest, the Skirball Fire's continued impact could be seen traveling down Interstate 405, the famously congested roadway shut down by the flames a day earlier. Mountains to the east of the 405 that had been swathed in flame were charred, while those on the freeway's west side were spared.
About 10 miles south of Carpinteria, Richard Floyd watched flames burn down a steep hillside toward his aunt's 32-acre avocado orchard, flaring with the wind gusts. For hours, the fire was close enough to his cabin, set in a bowl between hills, that you could hear it crackle and pop.
Helicopters dropped water on the hillside above the orchard for more than an hour, two working in tandem: As one dropped a load and swung south to refill in Lake Casitas, the second could be seen in the near distance.
The crews were "doing great, just great," Floyd said. But the flames persisted and he remained uneasy.
Berman reported from Washington. Noah Smith in Los Angeles; Soo Youn in Ventura, Calif.; and Travis Andrews, J. Freedom du Lac, Jason Samenow and Dan Lamothe in Washington contributed to this report.