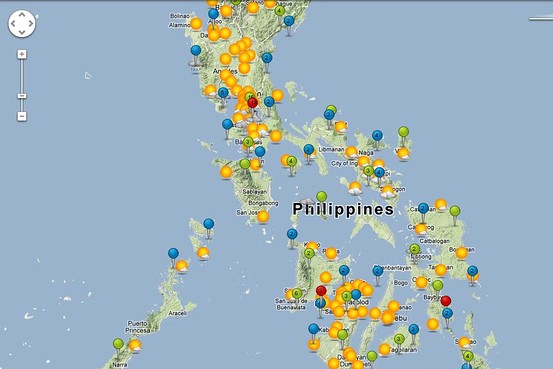 The Philippines is no stranger to disasters. Floods, earthquakes, volcanoes and typhoons frequently ravage the archipelago, making it one of the most disaster-prone countries in the work.
But now a new plan aptly dubbed Project NOAH – National Operational Assessment of Hazards – intends to give Filipinos a better chance of overcoming these calamities by providing real-time access to weather information and updating maps, some of which date back to the 1960s.
Spearheaded by the Philippine Department of Science and Technology, the 2 billion pesos, or $48 million, project was launched in July 2012. Automated rain gauges first were installed in river basis around the country, allowing scientists and other experts to track rainfall and river water levels in real time. This month, the project will roll out LIDAR, or Light Detection and Ranging, technology which allows for high-resolution 3D mapping of the country's topography – something which scientists say will help the Philippines' better prepare for potential disasters. The entire country is expected to be digitally mapped within two years, according to scientists running the project.
"Using the best technology available is the only way to minimize casualties," said Mahar Lagmay, executive director of Project Noah and a scientist at the University of the Philippines in Manila. "We need to develop a culture of preparedness and safety.
He also added that the project will likely draw on newly-developed "super wifi" technology to get around some necessary infrastructural upgrades still lacking in the Philippines.
Just weeks after Project Noah was launched by the country's president Benigno Aquino III, the system was quickly tested when monsoon winds and rain dumped unusually heavy rainfall on critical cities in the Philippines, including Manila. The torrential rains caused the most severe floods seen since Tropical Storm Ketsana in 2009 which left the capital submerged for days.
Initial assessments of the August floods showed that better tracking and disaster response times helped to limit the death toll to just over 100 people, compared to over 700 during 2009's floods. A report from the United States Agency for International Development, or USAID, said local governments were "managing the situations well", and that that follow-up relief operation was put into action quickly. According to the United Nations Office for the Coordination of Humanitarian Affairs, the population displaced by the floods reduced by 10% in a week – a far better record than during Typhoon Ketsana, whose impact lasted months though similar levels of rainfall were recorded, according to Project Noah's tracking maps.
Mr. Lagmay added that the improved maps could also serve another practical purpose – as a tool for urban planning and development, crucial for private sector investors that are starting to bet big on increased domestic spending in the country including in malls and on real estate. The project has some private sector partners – including San Miguel Corp SMC.PH -0.09%.'s Petron oil refinery, Philippine telcos Smart Communications Inc TEL.PH +0.94%., SUN Cellular and Globe Communications though none of them have pledged funding as yet. Smart Communications, for example, has been working to set up free call stations at disaster evacuation centers with charging facilities and internet provisions and opens SMS channels to receive donations during crisis situations.
It is becoming increasingly important for Asian countries to adopt modern disaster relief strategies in the decades to come, experts say. According to a report from the Asian Development Bank, a projected 410 million urban Asians are at risk of coastal flooding in the next decade, with another 350 million at risk of inland flooding – similar to that experienced by Bangkok last year, and Manila this August.
Observers note that social media is an important component in Project Noah's success. Comscore ranks the country the world's biggest market for Facebook FB +7.73%, with more than 90% of its online population using the social networking tool, with an overall internet penetration rate of about 33% of its 100 million people. Representatives from Global Systems Mobile, the system on which many cellular phone networks function, are examining the Philippines to see how mobile phones can help bolster early warning networks elsewhere.
Twitter provided some of the fastest alerts about a 7.6 magnitude earthquake off the eastern coast of the Philippines last month. And analysts say social media will become even more useful as radio stations and other broadcast media increasingly rely on the Internet for information.