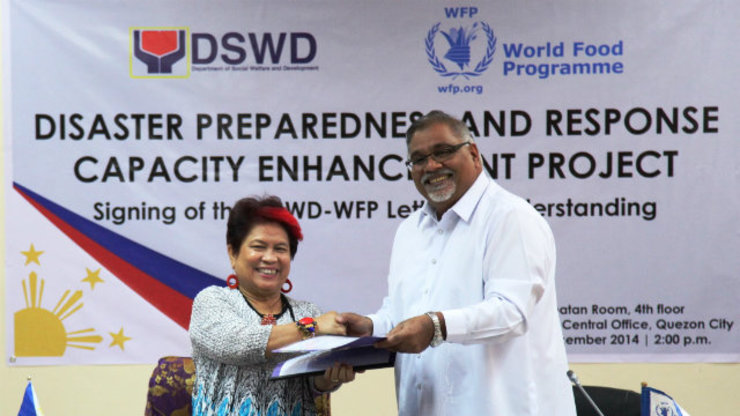 DSWD Secretary Corazon Juliano-Soliman and World Food Program Country Director Praveen Agrawal exchange documents during the Signing Ceremony for the Letter of Understanding between the DSWD and the UN-WFP on Disaster Preparedness and Response Capacity Enhancement Project.
MANILA, Philippines – The United Nations World Food Programme (WFP) is partnering with the Government of the Philippines through the Department of Social Welfare and Development (DSWD) to further build capacity for disaster preparedness and response in the country.
The collaboration will involve boosting DSWD's National Resource Operation Centre (NROC) in Pasay City and its regional warehouses through the prepositioning of relief items and operational support equipment, as well as the development and implementation of government training programs with emphasis on disaster response, logistics and supply chain management.
"The Philippines experiences more than 20 typhoons a year, including Typhoon Hagupit, locally known as Ruby, which hit us this December," said Praveen Agrawal, WFP Philippines Representative and Country Director. "These natural calamities continue to threaten the food security in the country which is why WFP remains strongly committed to work alongside the Government in its disaster preparedness and response initiatives."
"Strengthening DSWD's response hubs is a step towards a more prepared Philippines so we can better reach affected people with food assistance. We look forward to this strategic partnership with the Philippine Government," Agrawal added.
"WFP has long been our partner in providing assistance to survivors of calamities,"
DSWD Secretary Corazon Juliano-Soliman added. "This partnership strengthens our existing logistic and relief delivery capacities, and will surely improve our immediate response to any disaster."
WFP also has future plans with DSWD and the Office of the Civil Defense to build disaster response centers in Luzon, Visayas, and Mindanao. Each disaster response centre will consist of two buildings built and funded by WFP. The first building will be used for packing and storing family food packs while the second building will house search and rescue equipment. The centers will initially be managed by WFP and will be handed over to the Philippine Government after a two-year period. - Rappler.com