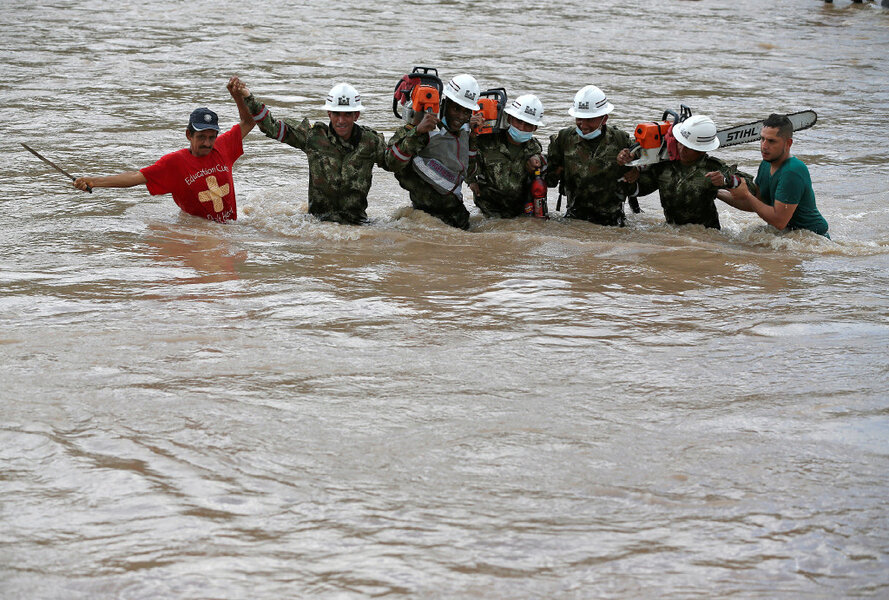 Natural disasters often create unexpected bonds between people, even long-time rivals, which can then alter the course of history. A good example was an offer made Monday by armed rebels in Colombia to assist in the recovery of a town hit by a flood over the weekend. At least 262 civilians were killed by the flooding and more than a thousand were made homeless. "We are ready to help," stated the Revolutionary Armed Forces of Colombia (FARC).
Colombia's government is in the midst of ending a half-century of war with the FARC. The tragedy in the town of Mocoa offered an opportunity for 400 rebels encamped nearby to show they are prepared to work with the government and forsake killing for cooperation. Their humanitarian gesture could help break down political barriers and provide an antidote to a long war.
Another example of disaster-related reconciliation occurred in 2004 when a tsunami struck the province of Aceh in Indonesia, killing some 130,000. The mass devastation and the aid provided by the Army forced a group of rebels to end its 30-year struggle for Aceh's independence. The government and rebels signed a peace deal the next year.
In recent years, countries opposed to North Korea's nuclear program have nonetheless offered food aid during a famine. The United States Navy has helped rescue stranded Iranian fishermen. A Russian tanker has brought an emergency supply of winter fuel to the isolated Alaskan city of Nome.
China and Japan, despite their rivalry in Asia, have offered aid to each other after recent disasters. Japanese teams searched for survivors after China's 2008 earthquake while Chinese rescuers reciprocated after Japan's 2011 earthquake and tsunami. After a 2005 earthquake in Pakistan, India delivered assistance to its longtime rival.
Yet these latter examples also illustrate the difficulty of resolving many geopolitical conflicts. Japan and China are at odds over an island dispute, while North Korea, Iran, and Russia are only winning more adversaries. India and Pakistan continue their estrangement