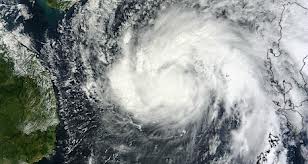 Philipina - Tropical Storm Son-Tinh killed at least 27 people in the Philippines, officials said, and Vietnam and China readied for its onslaught with typhoon force.
The storm, called Ofel in the Philippines, struck its central and southern regions, triggering landslides and flooding.
The Philippines Star, quoting disaster management officials, said the death toll as of Sunday had risen to 27.
The storm injured 19 others and displaced more than 11,000, officials said. The Mimaropa, Calabarzon and Visayas regions were hit hardes. More than 11,430 people remained in evacuation centers.
China's Xinhua News Agency Monday reported five people were missing after their boat was hit by Typhoon Son-Tinh's strong winds in the South China Sea off Sanya on southern Hainan province.
The report said the local sea rescue center in Sanya received a report Sunday that the boat, which had no power, had partially gone under near a cargo terminal.
Sanya's maritime safety administration said a search team of helicopters and rescue vessels had been dispatched to the area.
Xinhua reported more than 80,000 people in Hainan province had been relocated, with the typhoon pounding the region with gale-force winds and rains since Saturday.
Authorities suspended train services and shipping across the Qiongzhou Strait that links the Hainan island with Guangdong Province due to high winds and rains.
source: http://www.disasternews.net