Bencana Kesehatan
How a California Earthquake Becomes the News: An Extremely Precise Timeline
The epicenter of Monday's quake, as seen from space on August 17 of last year (USGS / Landsat)
Early Monday morning, Los Angeles suffered the strongest earthquake it had seen in 20 years. The 4.4-magnitude seismic event woke up sleeping Angelenos, but thankfully did little additional damage.
Read more: How a California Earthquake Becomes the News: An Extremely Precise Timeline
Rainstorms Flood Sichuan Province in China
Heavy flood waters swept through Beichuan in China's Sichuan Province on Tuesday.
BEIJING — Rainstorms that are said to be the worst in five decades have flooded large areas of southwest China, washing out bridges, setting off a landslide that buried dozens of people and destroying a memorial to victims of the 2008 earthquake in Sichuan Province that flattened large parts of the same area.
Gunung Slamet Waspada, Sosialisasi Bencana Gencar Dilakukan
PEMALANG - Peningkatan status Gunung Slamet dari aktif normal menjadi waspada, membuat semua pihak di Kabupaten Pemalang, Jawa Tengah, ikut waspada. Beragam antisipasi agar tidak ada korban jiwa bila sewaktu-waktu gunung meletus pun dilakukan oleh pemerintah setempat bersama unsur muspida.
Read more: Gunung Slamet Waspada, Sosialisasi Bencana Gencar Dilakukan
4,000 Still Missing in Indian Floods
With more than 4,000 people still reported missing after flash floods hit Uttarakhand three weeks ago, the state's chief minister said that those who have not been found by July 15 will be declared dead, entitling their families to compensation.
Kabut Asap di Riau Buat Warga Jenuh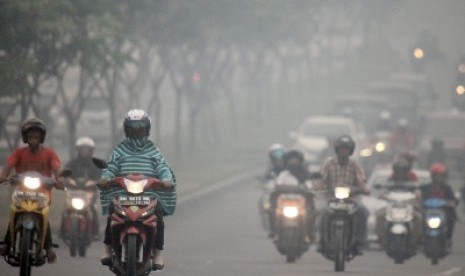 BUKIT RAYA - Kabut asap yang mengelilingi Riau mulai membuat warga jenuh. Masker dikeluhkan mengganggu kenyamanan, walaupun diakui diperlukan. "Anak-anak sudah kena ISPA (Infeksi Saluran Pernapasan Akut -red), saya sudah kebal kayaknya. Pakai masker gakenak," ujar warga, Bobi, Rabu (5/3).
Page 3 of 244