WADEM CONGRESS
World Association on Disaster and Emergency Medicine
Brisbane, Australia 7-10 Mei 2019
---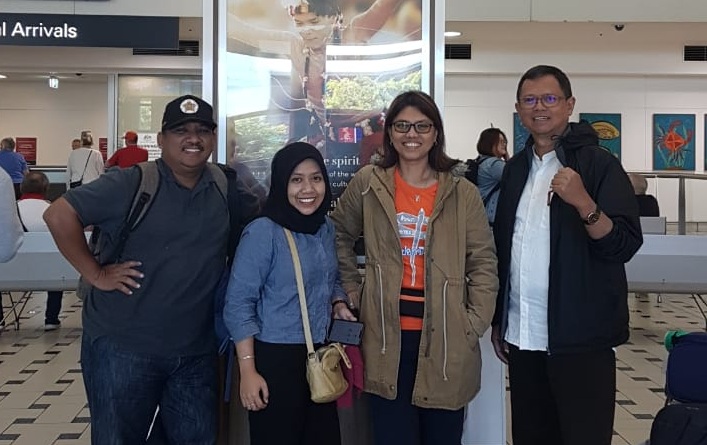 Dok. PKMK FK - KMK UGM: Tim bencana FK - KMK UGM yang mengikuti konferensi WADEM 2019
Kembali berpartisipasi dalam kegiatan kongres dua tahunan yang selalu diikuti oleh anggota Divisi Manajemen Bencana Kesehatan PKMK FK - KMK UGM, konferensi WADEM. Kali ini justru diikuti juga oleh tim CFHC tahun 4 FK - KMK UGM, RS Sardjito, dan Pusat Krisis Kesehatan Kemenkes. Sejak setahun yang lalu, kami sudah sibuk untuk menyiapkan tulisan yang akan dikirimkan ke panitia. Kegigihan tidak mendustai hasil, dari lima paper yang dikirimkan, semuanya diterima oleh reviewer untuk disajikan. Dua diantaranya diterima presentasi oral dan tiga lainnya poster presentasi. Presenter tersebut adalah dr. Bella Donna, M.Kes, Madelina Ariani, SKM, MPH, Sutono, S.Kp, M.Sc, M.Kep, dr. Handoyo Pramusinto, Sp.BS(K), dan dr. Ina Agustina Isturini, M.Kes. Kabar baik selanjutnya adalah konsultan senior divisi, dr. Hendro Sp.BDKBD juga diundang untuk mengisi sesi free paper bersama perwakilan negara lainnya dalam tema pengalaman ASEAN dalam penanggulangan bencana.
Berikut judul paper tim di atas:
Health Sector Preparedness During the Eid-al-Fitr Homecoming Across Indonesia in 2017
Accepted : Oral presentation
Theme : Prehospital Care and Road Safety
Author :
Ina Agustina

Madelina Ariani

Bella Donna

Achmad Yurianto

Kamarruzaman

Hendro Wartatmo
Presenter : Ina Agustina
Presentation Schedule: 10 May 2019 (09.00 AM – 10.30 AM)
Eartquake, Tsunami, and Liquefaction in Central Sulawesi, Indonesia: how well our disaster health management progress?
Accepted : Oral Presentation
Theme : Public and Environmental Health
Author :
Bella Donna

Madelina Ariani
Presenter : Bella Donna
Disaster Health Management from North Lombok Earthquake Experience, Indonesia
Accepted Poster Presentation
Theme : Medical Assistance Team
Author :
Hendro Wartatmo

Bella Donna

Madelina Ariani

Mr. Sutono
Mr. Agung Widianto
Presenter : Hendro Wartatmo
Description of disaster forms usage in health cluster in Lombok and Palu Earthquake
Accepted : Poster Presentation
Theme : Primary Health Care and Disaster
Author :
Madelina Ariani

Bella Donna
Schedule : Wednesday, 8 May 2019 (poster board 48)
Presenter : Madelina Ariani
An emergency and disaster course on responding to community and family health care problems with inter-professional education for undergraduate medical, nursing, and dietitian student
Accepted : Poster Presentation
Theme : Primary Health Care and Disaster
Author :
Madelina Ariani

Bella Donna

Sutono

Yayuk Hartriyanti

Fitriana

Nandyan Wilasto

Gandes Rahayu
Schedule : Tuesday, 7 May 2019 (poster board 46)
Presenter : Sutono
Simak reportase Selengkapnya Klik Disini