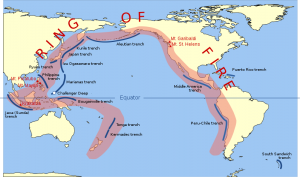 While most of the world has been focused on other things, the Ring of Fire has been quietly waking up. Over the past couple of months, there has been a steady string of noteworthy volcanic eruptions and earthquakes that have occurred along the perimeter of the Pacific Ocean.
But because none of them have happened near a highly populated area, we really haven't heard much about them in the news. But if activity along the Ring of Fire continues to increase, it is inevitable that a major event will happen near a major city at some point. When that happens, the entire world will be focused on the Ring of Fire once again.
Most people don't realize that approximately 90 percent of all earthquakes and approximately 75 percent of all volcanic eruptions occur along the Ring of Fire. The entire west coast of the United States sits along the Ring of Fire and a massive network of faults runs underneath California, Oregon and Washington. Fortunately, the west coast has not experienced any devastating seismic events in recent years, but scientists assure us that will change at some point. So it is important to sit up and take notice when there are reports of increasing activity along the Ring of Fire. Unfortunately, most Americans cannot even tell you what the Ring of Fire is. The following is how Wikipedia defines the "Ring of Fire"…
The Pacific Ring of Fire (or sometimes just the Ring of Fire) is an area where large numbers of earthquakes and volcanic eruptions occur in the basin of the Pacific Ocean. In a 40,000 km (25,000 mi) horseshoe shape, it is associated with a nearly continuous series of oceanic trenches, volcanic arcs, and volcanic belts and/or plate movements.
It runs roughly along the rim of the Pacific Ocean. Coastal residents of four different continents realize that a major event along the Ring of Fire could fundamentally change their lives in a single moment.
Nearly all of the worst earthquakes in modern history have occurred along the Ring of Fire. When the Ring of Fire is very active, it is a very big deal. That is why so many people are alarmed that the Ring of Fire seems to be entering a period of increased activity.
The following are 15 signs that the Ring of Fire is waking up as we head into 2013…
#1 Mount Lokon, which is located in Indonesia, has erupted more than 800 times since July. On Monday, volcanic ash from the volcano reached heights of up to 10,000 feet.
#2 An "orange alert" had been issued for towns and villages near the Tungurahua volcano in Ecuador. On Tuesday it erupted and shot lava up to a half mile above its crater.
#3 Lava is still flowing out of the Tolbachik volcano which is located on the Kamchatka Peninsula. Anyone that has ever played the board game "Risk" knows where Kamchatka is located.
#4 Lava also continues to flow and ash also continues to rise from the Fuego volcano in Guatemala.
#5 On Tuesday, an ash plume more than 2.5 kilometers high had risen from the Paluweh volcano in Indonesia.
#6 There was an average of about 4 seismic events per hour at the Popocatépetl volcano in Mexico on Tuesday.
#7 Scientists recently discovered "one of the world's weirdest volcanoes" on the floor of the ocean just off the coast of Baja, Mexico.
#8 Mt. Fuji (located not too far from Tokyo, Japan) has been dormant for about 300 years, but in recent months there have been increasing signs of activity there. One study recently found that a "magma chamber under the mountain has come under immense pressure", and one prominent scientist is warning that Mt. Fuji is due for "a big-scale explosive eruption". Authorities were alarmed when a tunnel leading to Mt. Fuji collapsed on December 2nd, killing 9 people.
#9 Scientists are now warning that there is a very dangerous build up of magma at a large number of Japan's 110 active volcanoes.
#10 A magnitude-6.1 earthquake struck off the coast of Sulawesi, Indonesia on Monday.
#11 A magnitude-6.0 earthquake hit the New Britain region of Papua New Guinea on Saturday.
#12 A magnitude-6.5 earthquake struck the Gulf of Alaska in mid-November.
#13 A magnitude-7.3 earthquake hit Japan earlier this month.
#14 There has been a substantial increase in earthquake activity in the Long Valley caldera region of California, and authorities tell us that "magma is indeed moving down there".
#15 Over one recent five week period, more than 170 significant earthquakes were detected in one town in Chile. That town is now being called "one of the shakiest places on earth".
All of those events occurred along the Ring of Fire.
So why is all of this happening?
Well, there are certainly a lot of theories out there.
In the United States, a large percentage of the population is convinced that an increase in natural disasters is evidence that we are in the "last days" described in the Bible. In fact, one recent survey found that a whopping 36 percent of all Americans believe that the increase in natural disasters that we have seen in recent years is an indication that we are in the end times…
More than a third of Americans believe the severity of recent natural disasters is evidence that we are in the "end times" described in the New Testament — a period of turmoil preceding Jesus' Second Coming and the end of the world.

"There is a significant proportion of Americans who see these phenomena through a theological lens," said Daniel Cox, research director at the Public Religion Research Institute, which released a poll on religion and climate change on Thursday (Dec. 13) in partnership with Religion News Service.

"It's hardly a fringe belief. It's nearly four in 10 Americans who are embracing this," Cox said.

The conviction is particularly strong among white evangelical Protestants (65 percent), and less common among Catholics (21 percent) and the religiously unaffiliated (15 percent).
Other Americans believe that there are other causes for all of these natural disasters, and a large number of Americans are absolutely convinced that nothing unusual is happening at all.
source: http://www.rightsidenews.com